The Sydney Opera House comes alive like never before through an uncanny symbiosis of machine learning and human creativity, as the sounds and the data from the building itself are dramatically recomposed  for an unforgettable 50th-anniversary digital artwork. Audiences will be able to access the work online via the Stream platform 24/7 across October and for three special nights from 6 – 8 October, Music of the Sails will also be available to experience in person, for free, in an intimate purpose-built venue in the Western Foyer. 
Watch the livestream on Stream from 1 - 31 October. 
Visit the installation onsite from 6 - 8 October.
| | |
| --- | --- |
| Dates | Time |
| 6 October | 6.30pm |
| 7 October | 6.30pm |
| 8 October | 6.30pm  |
Location
The installation will be in the Tours Digital Immersive Experience located in the Western Foyer. No registration is required. 
View a map of the Western Foyer here.
Run time
Installation is open for 3 hours. You are welcome to come and go at any time. 
Wheelchair accessible
Find out more about accessibility at Sydney Opera House
The Sydney Opera House becomes the star
As we celebrate our 50th year, we're dreaming about the future, and thinking about the ways in which technology will impact creativity and performance. In Music of the Sails, we flip the relationship between the building and the art that inhabits its walls.  What if the House itself could stand in the spotlight on stage? What would it sound like? What would it sing to us?  
Music of the Sails is an ambitious digital artwork that reimagines the sounds of the world-famous building in a unique audio-visual soundscape running for 744 hours across the entire month of October. 
A generative, audio-visual artwork made from data, artificial intelligence and field recordings, including the sounds of the Concert Hall's grand organ, Music of the Sails augments the sonic secrets of the building in a way that we've never heard before.  
The ground-breaking project is a creative collaboration between the Opera House, the University of New South Wales' Interactive Media Lab and music technologists Uncanny Valley. It is a captivating fusion of architecture and generative music techniques with cutting-edge uses of generative and artificial intelligence methods to reveal the Opera House as a living and dynamic work of art in action. 
Audiences will be able to access the work online via the Stream platform 24/7 across October and for three special nights from 6 – 8 October, Music of the Sails will also be available to experience in person, for free, in an intimate purpose-built venue in the Western Foyer. Members from the project team involved in creating the work will be on hand to answer questions about the project and the future possibilities of technology and creativity. 
Interactive Media Lab, University of New South Wales
The Interactive Media Lab at UNSW's School of Art & Design researches and teaches emerging media technologies and their application in creative work.

Uncanny Valley
Uncanny Valley's focus is one part musical craft, and the other sonic technology. Armed with decades of experience, they harness their diverse musical expertise and collaborate with artists and brands to create their unique sound. They utilise emerging technologies and engage audiences to tell musical stories via all mediums.
Oliver Bown is an academic interested in understanding artistic and musical creativity using digital technology, and its relation to society.
He has worked in the field of Computational Creativity — the study of the automation of creative tasks — since 2007, seeing massive transformations in technological capability leading up to the current explosion in AI art and music. During this time he has worked in academic research in creative coding practice, making his own music improvising systems, a technologist, developing creative tools for artists, as an electronic music producer and improviser, as a media artist, and as a theorist and researcher of creative practice and trends. His book "Beyond the Creative Species: Making machines that make music and art" (MIT Press 2021) surveys the impacts AI is having on creative culture, and is available as a free open access EPUB.
Charlton Hill has decades of experience in the music, television, advertising and technology industries in an array of creative roles including major recording artist, published songwriter and actor to innovative strategist and music technology entrepreneur.
Co-founding music and technology company Uncanny Valley (UV) in 2010 with music producer/sonic technologist Justin Shave, Charlton has strived to bring authenticity and collaborative craft to projects that continually help to define the rapidly changing music industry. Working with artists, publishers, record labels, TV networks and brands, Charlton has prolifically provided a catalyst to fuse traditional storytelling with progressive music technologies.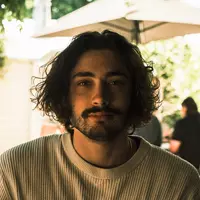 Stephen Krol is a musician and PhD student at SensiLab, Monash University Melbourne. With industry experience in deep learning and computer vision, his PhD aims to understand how latent-based, deep generative systems can aid in musical composition through variation generation.
Chloe McFadden is an artist and PhD candidate based in Sydney on Gadigal land. Primarily making generative art and interactive installations that utilize machine learning systems, her work critically engages with society's growing faith in predictive technologies. Through her art, she aims to disrupt this reliance and sensitizes audiences to the increasingly ubiquitous ways we are co-constructing our futures alongside machine systems.
She graduated with first-class honours and received the university medal from the University of New South Wales (UNSW) in 2021. Her PhD research is particularly focused on exploring the role that artists can play in examining, uncovering, and disrupting how our faith in predictive algorithms manifest, and its impact within society and culture.
Beyond her academic and artistic pursuits, McFadden serves as the Media Coordinator for Arc UNSW, where she facilitates student publications and volunteer programs.
Rodolfo Ocampo is a PhD student in human-AI creative collaboration at UNSW, exploring how humans and machines can be creative partners.
Rodolfo extensive work in the field of generative artificial intelligence has involved both artistic installations that employ AI as a new creative medium, practical AI enabled tools that support human creative work and consulting on responsible and effective adoption of AI.
Previous to his PhD, Rodolfo obtained a scholarship to participate in a pilot masters program of at the 3Ai Institue at ANU, focusing on responsible deployment of AI-enabled systems. Previously, he worked at Google in Mexico City, where is originally from.
Rodolfo has also worked at the CSIRO developing AI systems to assist First Nations Rangers in environmental conservation efforts. His work has appeared in outlets such as the ABC, The Guardian, The Conversation and the Australian Financial Review.
For over two decades, Caroline Pegram has worked as a producer for award winning companies and celebrated media personalities, with a specialisation in science communications. Most notable is her 20 years as producer with Dr Karl Kruszelnicki. 
Always leading with curiosity, she ventured into the world of Artificial Intelligence in 2017, when she joined Uncanny Valley as their Innovation & Strategy Director, expanding their technology arm to form both commercial and academic global partnerships. Together they have forged a path between cutting edge technologies and music, using artificial intelligence and machine learning to augment creativity and explore new uses. 
In 2020 she was part of the team that won the very first global AI Song Contest, using frontier tech to create a Eurovision song. In 2022, Caroline collaborated with the School of Cybernetics to co-curate Australian Cybernetic: a point through time - an exhibition focussing on the development of computing, technology and creativity across industries from 1968 - 2022. 
Caroline holds a Visiting Fellowship at UNSW and was a finalist in the Women in AIA Awards in 2022.
In 2023, Caroline joined the team at SXSW Sydney as the Head of Tech and Innovation in the inaugural year and became a Cybernetic Imagination Resident at the ANU's School of Cybernetics.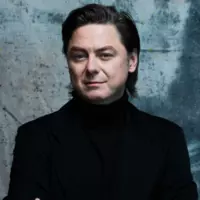 Justin Shave is one of Australia's preeminent music producers and musical directors who works simultaneously across the record and screen music industries. With a string of platinum records and APRA Awards to his name, Shave has crafted the sonic essence for many of the world's top artists and distinguished brands. As a classically trained pianist, screen composer, and computer scientist, Shave's multifaceted expertise uniquely positions him at the nexus of traditional artistry and technological innovation.
Fuelled by his strong interest in creative computation, Shave's vision extends beyond traditional music production. In 2020, Shave played a pivotal role in the team that won the inaugural Eurovision AI Song Contest. An advocate for intertwining music with technology, Justin has liaised with industry leaders like Native Instruments and Fairlight Instruments as a consultant and synthesiser designer. Shave's pursuit of sonic evolution is evident in the creation of his groundbreaking generative music system, MEMU. This innovation has been instrumental in artist-driven music generation and showcased in several installation pieces.
At the helm of Uncanny Valley (UV), a pioneering Sydney/LA music collective, Shave's distinct flair has attracted collaborations with industry giants such as Paramount+, BBC, ABC, and Google and the production of countless news and sports themes. His deep-rooted proficiency in EDM production led to his role as musical director for the past five years for the Ministry of Sound Orchestrated Tour. This expertise has also facilitated collaborations with notable artists such as Sia, Darren Hayes, and The Potbelleez.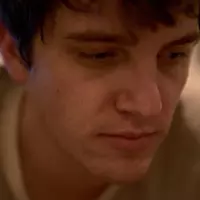 Brendan Wright is an applied artificial intelligence researcher, using machine learning to model complex dynamic systems. His interdisciplinary research sits at the intersection of physics and applied machine learning, with an emphasis on enhancing the scientific investigation, analysis, and monitoring of photovoltaic technologies.
He completed his doctorate at the University of Wollongong, with a specialisation in excited-state physics, and currently holds a postdoctoral research position at the University of New South Wales, focusing on developing modelling techniques to study the complex physical dynamics of defect mechanisms in photovoltaic systems.
In addition to his academic research career, he has pursued professional work as a data scientist within the finance technology industry, developing expertise in data engineering and machine learning technologies.
With his ongoing passion for artificial intelligence, data engineering, and sound production, he continues to apply new research into generative time-series models towards the development of generative music technologies.
Other information
Frequently asked questions
Stream is Sydney Opera House's online streaming platform showcasing world-class performing and digital arts, highlights from the Opera House's incredible multi-genre archive, livestreams of new performances, presentations by local and international performing arts companies, plus original content created exclusively for the platform.
Turn your living room into a theatre or stream world-class performing arts from the back of the bus anytime, anywhere. Download the Stream app for mobile, tablet and TV from the App Store or Google Play now, or watch on your preferred browser.
It's free to sign up to Stream, which gains you access to a wide range of on-demand video content. A large proportion of Stream's content is free to view with the exception of premium rentals which are available to rent. Prices for rentals vary depending on the content.
Stream is available to watch worldwide, however some releases are exclusively available to Australian and New Zealand audiences. 
Stream is managed by our platform partner Vimeo, so you will need to create a seperate account on the streaming platform.
Yes - teachers and educators can create an account and stream to a TV (using Cchromecast, Smartboard etc).  Each account only works for in-classroom streaming from one device.  The minimum age to sign-up for an account is 15 years old.
Follow the below easy steps to sign-up for free to Stream
Visit stream.sydneyoperahouse.com 

In the top right hand corner, select 'Create Account'

Input your details in the form and tick the box if you'd like to be first in-the-know when new Stream releases are announced. 

Begin watching the best from the Sydney Opera House stages and beyond! 
If you have any problems, please visit the Vimeo Help Centre.
You can watch Stream on any internet-connected device via a web browser, simply visit stream.sydneyoperahouse.com, create a free account and start streaming. 
If you're having trouble with your password, consider the following possibilities:
Did you sign up with a typo in your email address, or an address different than the one you're using to sign in? Try to find the confirmation email from when you signed up to verify the address you should be using.
Punctuation makes a difference. If you signed up with email.email@gmail.com, but are trying to sign in with emailemail@gmail.com, our system will not consider those the same addresses.
The end of your email address matters. For example, @gmail.com and @googlemail.com may be the same to Google, but our system will see them as different email addresses. 
With those possibilities in mind, here are the ways to log in on the web. If you don't have a password, or your password isn't working, here is how to set/reset it:
Click Sign in in the top right corner of the page and enter your email address.
Click Next.
Underneath the password field, select Reset your password.
Enter your email address on that page and select Reset Password.
If you are an active customer, you will be emailed a link to set a new password. Check your email inbox for that link.
Note: If you do not receive an email to reset your password, it's likely that you are using an incorrect email address. Please try any other addresses you own. Check all of your email inboxes for a 'Start watching' email from VHX (search for 'Start watching VHX ').
If a password is not required:
Click Sign in in the top right corner of the page.
Enter your email address. If you are an active customer, you will be immediately emailed a link that will sign you in, once clicked. Open your email inbox and click the sign-in link.
You will then be signed in to watch your video content. 
Note: If you do not receive an email to sign-in, it's likely that you are using an incorrect email address. Please try any other addresses you may have signed up with. Check all of your email inboxes for a 'Start watching' email from VHX (search for 'Start watching VHX '). Be sure to search your spam folder.
For optimal viewing, we recommend using one of the supported browsers listed here.
Make sure you're on a fast, reliable internet connection. When a video plays in lower than expected quality, it's likely because your Internet speed (bandwidth) or computer processing speed cannot support higher quality playback.
If you can, try switching to a different internet or data connection.
Manually switch the quality of the video playback to a lower quality.
Try browsing in an Incognito or private browsing window. This will disable your extensions and clear your cache and cookies, which often improves performance.
If you have any internet filtering devices for your home (such as Disney Circle or Net Nanny), please turn these off as they can interfere with video playback or connectivity. Once done, close and reopen your browser and try visiting our website again.
If you have any other devices to try, sometimes that makes a difference.
Chromecast
Make sure your device and Chromecast are on the same Wi-Fi network.
Make sure you have a fast and stable internet connection with a download speed of at least 500kbps.
Unplug Chromecast and plug back in.
Restart your wireless router or modem.
Note: At this time, we do not support Chromecast devices that some TVs have built-in. While it may work, our player is not developed to support this and we cannot troubleshoot any issues that may arise.
Each Stream rental gives you access for a finite amount of time. This is indicated in the rental description where you watch the video.
To note: 
Videos within a free subscription or rental are not downloadable via the computer. 
Not all videos available for purchase will be available to download. If you do not see a download video button via desktop, they are likely disabled.
When viewing via a desktop browser, the download options are available below the player on the video's page.
When on the Browse or Product page, click into the video you want to download.
Scroll down on the video page.
Click the Video Downloads dropdown below the player.
Select the video resolution you wish to download from the dropdown.
It will save to your computer and you can watch from there or transfer it to other external devices.
Create a free Stream account here.
To be first in the know when new Stream releases are announced, be sure to tick the box to confirm you're interested in receiving 'newsletters and product updates from Stream - Sydney Opera House'.
To watch on a TV or an Apple phone or tablet, download the Stream app from the Apple Store. To watch on an Android phone or tablet, download the app from Google Play.  
Open the Stream app and tap 'Sign In'.
Start watching on any device!
At this time, the Stream app only supports English.
If you have an Android or Apple TV, you can download the app from the App Store or Google Play.
Apple TV
Currently, a 4th generation Apple TV or higher is required to download the Stream (tvOS) app. Note, this should not be confused with the Apple TV+ app, which is Apple's own app for their original content.
Android TV
Not all Android TVs support the Android app. However, in general, the following TVs should support the app:
AirTV, Nvidia, Hisense, Philips, Sharp, Skyworth, Sony, and Xiaomi.
Other TVs
If you have a Samsung TV, it may not be possible to log in or play the content from the built-in internet browser as these browsers are not currently supported. To try watching on a TV's browser: 
On your TV, open the internet browser and visit stream.sydneyoperahouse.com. 
From here you can either create a free account or sign in to start watching. 
If these steps don't work, then it's likely your TV will not be compatible. In this case, you can try connecting your computer or mobile device to your TV using a HDMI cord or casting via Chromecast or Airplay with Apple devices.
You don't need a smart TV to use the Stream app, you can use a set-top box.
If you are having issues using the iOS or Android Stream app, the following steps clear up most issues:
Log out of the app, restart your device, and log back into the app.
If that doesn't resolve the issue:
Exit the app, turn your device's Wi-Fi off then on, and open the app again.
Check if there is an update for the app (via the iTunes App Store or Google Play Store).
If updating your app doesn't resolve the issue:
Try uninstalling the app and downloading it again.
Also, make sure your device's OS version is compatible with our app:
For iOS, the OS version must be 12.0 or higher.
For Android, it must be 5.0 or higher.
Search the Help Center to find answers or, if you're still having trouble, contact us (https://stream.sydneyoperahouse.com/contact/support). 
If you have a free Stream account and want to watch on your Android device, make sure your device is running Android 5.0 or higher. Then follow these steps:
Download the Stream Android app on your tablet or phone.
Open the app and tap Sign In.
Enter your details and tap 'Email me a sign in link'. 
You will then be sent a sign-in email to your email inbox. You can open this email on your Android device or on a separate device.
Click the Sign In link within that email and the app will refresh and log you in to watch. NOTE: If you have trouble with the link on the same device, try clicking the link in your email on a separate device to log in.
If you've downloaded the Stream Android app, you can Chromecast directly from the player in the app to a Chromecast device connected to the same network as your Android device.
Note: At this time, we do not support Chromecast devices that some TVs have built-in. While it may work, our player is not developed to support this and we cannot troubleshoot any issues that may arise. Only external Chromecast devices are officially supported.
Launch the Stream Android app and open a video. Tap the screen so that the player controls appear. If you see the Chromecast icon in the lower right of the screen, you will be able to Chromecast the video.
Tap the desired destination in the menu that appears. This will start the Chromecasting.
Once you are successfully Chromecasting, the video will appear on the connected TV screen. On your Android device, you will see the player and video control options. To fast forward, rewind, or pause the video, use the player controls within the app. You can also click on a spot in the progress bar to fast forward or rewind.
Note: When Chromecasting, you will not be able to use the player controls that appear on your Android device's lock screen. You need to unlock your phone and use the controls within the app.
To disconnect from Chromecast, tap the Chromecast icon within the player, and then tap the Stop Casting option that appears in the window that pops up.
Featuring 54 new original songs inspired by queer idols throughout world history. A world-premiere hybrid work from renowned artist Taylor Mac, and performed by a global ensemble of queer artists. Join the celebration of queer history on the Concert Hall stage for this epic performance.
Returning to Australia for the first time in more than 20 years, legendary pop pioneers Sparks bring their 50-year career to the Concert Hall.
Sometime in the near future... Humanity has failed to adapt to the new ecological reality. It is officially the end of the world as we know it.