One of the world's most distinctive visual storytellers, William Kentridge, has created two beguiling works that invite us to embrace the precariousness of our time. This multilayered production fuses together dance, opera, charcoal drawing and film. 
| | |
| --- | --- |
| Date | Time |
| Thursday 2 November 2023 | 7:30pm |
| Friday 3 November 2023 | 7:30pm |
| Saturday 4 November 2023 | 7:30pm |
Standard
Adults aged 18+

Price

Premium

$139

A Reserve

$129

B Reserve - Partial View

$115

C Reserve - Partial View

$105

Full-time Student
Adults aged 18+

Price
All Reserves

$50
Multipack Buy 2
Buy 2 SOH 50th Birthday events and save 10%

Price

Premium

$125.10

A Reserve

$116.10

B Reserve - Partial View

$103.50

C Reserve - Partial View

$94.50
Multipack Buy 3+
Buy 3 or more SOH 50th Birthday events and save 15%

Price

Premium

$118.15

A Reserve

$109.65 

B Reserve - Partial View

$97.75

C Reserve - Partial View

$89.25
Mob Tix

Discounted tickets for Aboriginal and Torres Strait Islander people and community groups.

$25
$8.95 booking fee applies per transaction
Prices correct at the time of publication and subject to change without notice. Exact prices will be displayed with seat selection.
The authorised agencies for this event are Sydney Opera House. For more information about Authorised Agencies, see the frequently asked questions below.
Run time
Performance timings are yet to be confirmed.
Event duration is a guide only and may be subject to change.
Age
Recommended for ages 15+
Children aged 15 years and under must be accompanied at all times. Children aged 0 - 23 months at the time of a performance may be seated on a parent's lap free of charge. All children occupying a seat or aged 2 year/s of age or older must hold a valid ticket.
Also on this page

Seating map
Read this page in your language
Visual and aural alchemy by South African artist William Kentridge
Myth, magic, music, movement, and mesmerizing imagery combine in revered South African visual artist William Kentridge's newest production.
Presented in two parts, Sibyl is inspired by the Greek myth of the Cumaean Sibyl, and wrestles with the human desire to know our future and our helplessness before powers and technologies that obscure that knowledge from us.

Part 1: The Moment Has Gone
22-minute film with live score by Kyle Shepherd
A short film combining piano and an all-male South African chorus led by Nhlanhla Mahlangu. The film features Kentridge's unique charcoal animation technique of successive erasure and redrawing conjuring his alter ego Soho Eckstein. Set between a municipal art museum and an abandoned mining area at the edges of the city where unofficial artisanal gold mining takes place, Soho comes face to face with his fate. 
Part 2: Waiting for the Sibyl 
42-minute chamber opera
A visually stunning chamber opera that incorporates the signature elements of Kentridge's visionary practice—projection, live performance, recorded music, dance / movement. 
Waiting for the Sibyl tells the story of the Cumaean prophetess Sibyl. It explores what it means to grapple with the endlessly human task of making sense of our contemporary world and living with uncertaintly about our future. Created in collaboration with choral director and dancer Nhlanhla Mahlangu and Kyle Shepherd, one of South Africa's leading progressive pianists and composers, it is a piece for nine performers that unfolds in a series of 6 short scenes. 
Waiting for the Sibyl is profound, jarring, playful, and a visually stunning meditation on what it means to be alive. 
This program is proudly supported by the NSW Government through Create NSW Blockbusters Funding initiative
To call it stimulating would be an understatement. It is also cumulatively, and sometimes almost inexplicably, moving.

The Times
William Kentridge
William Kentridge (1955, Johannesburg) works across mediums of drawing, writing, film, performance, music, theatre and collaborative practices, to create works of art that are grounded in politics, science, literature and history, always maintaining a space for contradiction and uncertainty.
His work has been seen in museums and galleries around the world since the 1990s, including the Museum of Modern Art in New York, the Albertina Museum in Vienna, Musée du Louvre in Paris, Louisiana Museum in Copenhagen, the Reina Sofia museum in Madrid, the Kunstmuseum in Basel and the Royal Academy of Arts in London. His work can be found in the collections of art museums and institutions across the globe.
Kentridge has directed Mozart's The Magic Flute, Shostakovich's The Nose, and Alban Berg's operas Lulu and Wozzeck, for opera houses including the Metropolitan Opera in New York, La Scala in Milan, English National Opera in London, Opera de Lyon, Amsterdam Opera, the Sydney Opera House and the Salzburg Festival. His original works for stage combine performance, projections, shadow play, voice and music, and include the Refusal of Time, The Head & the Load, and Waiting for the Sibyl.
In 2016 Kentridge founded the Centre for the Less Good Idea in Johannesburg: a space for responsive thinking and making through experimental, collaborative and cross-disciplinary arts practices. The Centre hosts an ongoing programme of workshops, public performances and mentorship activities.
He is the recipient of honorary doctorates from several universities including Yale, Columbia and the University of London. Prizes include the Kyoto Prize (2010), the Princesa de Asturias Award (2017), the Praemium Imperiale Prize (2019), and an Olivier award for Outstanding Achievement in Opera in 2023.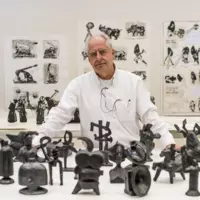 Featuring 54 new original songs inspired by queer idols throughout world history. A world-premiere hybrid work from renowned artist Taylor Mac, and performed by a global ensemble of queer artists. Join the celebration of queer history on the Concert Hall stage for this epic performance.
Chi Udaka is a kaleidoscope of sound and vision with taiko drums, shakuhachi flute, cello, classical Indian vocals and dance.
Sometime in the near future... Humanity has failed to adapt to the new ecological reality. It is officially the end of the world as we know it.