An Artist Talk by William Kentridge
Join William Kentridge, the creator of the Sydney Opera House presentation of Sibyl, as he takes us on a fascinating exploration of his creative process.
| | |
| --- | --- |
| Date | Time |
| Friday 3 November | 6pm |
| Ticket | Price |
| --- | --- |
| Unreserved Seating | $20 |
$8.95 booking fee applies per transaction
Prices correct at the time of publication and subject to change without notice. Exact prices will be displayed with seat selection.
Children aged 15 years and under must be accompanied at all times.
The authorised agencies for this event are Sydney Opera House. For more information about Authorised Agencies, see the frequently asked questions below.
Run time
This show runs for approx. 1 hour.
Event duration is a guide only and may be subject to change.
Age
16+ recommended.
Recommended for mature audiences only. Contains coarse language & adult themes.
Children aged 15 years and under must be accompanied by an adult at all times. 
Hear from the world-renowned visionary artist
William Kentridge, whose work never ceases to mesmerise, describes himself as an artist who makes drawings which sometimes are made into animated films. And sometimes there are performers in front of the animation and the work becomes theatre and opera – a drawing in four dimensions, in space, and extending over time.
With Sibyl, Kentridge has somehow captured the zeitgeist, tapping into our deepest uncertainties about the future. What process allows this to happen?
In his work, the ideas traverse in multiple directions from an initial impulse – an image or a phrase – to drawing, to idea, to metaphor, to image, and back again. His Johannesburg studio becomes an embodiment of these processes of discovery and the artist works – often in collaboration with fellow South African artists, musicians, dancers, and actors – toward a penetrating and resonant vision of our world. It's work where ambiguity and contradiction are not just "mistakes at the edge of understanding, but the way in which our understanding is constructed."
In this lecture with stunning visuals, William Kentridge invites us on the journey of his artistic practice through the making of Sibyl, and other works.
Sydney Opera House presents
It's always been in between the things I thought I was doing that the real work has happened.

William Kentridge
William Kentridge
William Kentridge (1955, Johannesburg) works across mediums of drawing, writing, film, performance, music, theatre and collaborative practices, to create works of art that are grounded in politics, science, literature and history, always maintaining a space for contradiction and uncertainty.
His work has been seen in museums and galleries around the world since the 1990s, including the Museum of Modern Art in New York, the Albertina Museum in Vienna, Musée du Louvre in Paris, Louisiana Museum in Copenhagen, the Reina Sofia museum in Madrid, the Kunstmuseum in Basel and the Royal Academy of Arts in London. His work can be found in the collections of art museums and institutions across the globe.
Kentridge has directed Mozart's The Magic Flute, Shostakovich's The Nose, and Alban Berg's operas Lulu and Wozzeck, for opera houses including the Metropolitan Opera in New York, La Scala in Milan, English National Opera in London, Opera de Lyon, Amsterdam Opera, the Sydney Opera House and the Salzburg Festival. His original works for stage combine performance, projections, shadow play, voice and music, and include the Refusal of Time, The Head & the Load, and Waiting for the Sibyl.
In 2016 Kentridge founded the Centre for the Less Good Idea in Johannesburg: a space for responsive thinking and making through experimental, collaborative and cross-disciplinary arts practices. The Centre hosts an ongoing programme of workshops, public performances and mentorship activities.
He is the recipient of honorary doctorates from several universities including Yale, Columbia and the University of London. Prizes include the Kyoto Prize (2010), the Princesa de Asturias Award (2017), the Praemium Imperiale Prize (2019), and an Olivier award for Outstanding Achievement in Opera in 2023.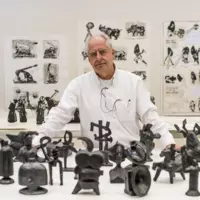 Featuring 54 new original songs inspired by queer idols throughout world history. A world-premiere hybrid work from renowned artist Taylor Mac, and performed by a global ensemble of queer artists. Join the celebration of queer history on the Concert Hall stage for this epic performance.
Chi Udaka is a kaleidoscope of sound and vision with taiko drums, shakuhachi flute, cello, classical Indian vocals and dance.
Sometime in the near future... Humanity has failed to adapt to the new ecological reality. It is officially the end of the world as we know it.