How two rock stars are discovering the 'sonic fabric' of movies
In 2019, Nick Cave and Warren Ellis took to the stage with conductor Nicholas Buc to recreate their tantalising film scores. We unpack the duo's unique process and eerie output.
When Nick Cave and Warren Ellis write a score, they usually haven't seen the movie. It's an untraditional approach from a pair of untraditional musicians, who are often working from just a scene, script or image.
"With Jesse James we were told we'd get a cut in February, we turned up in the studio, we had 25 seconds of Brad Pitt with a gun saying, 'Does this work? Does this work?'" Ellis told the ABC.
But it's also fitting for a duo whose atmospheric scores tend to duck and weave haphazardly throughout a film. Much like their own bands, The Bad Seeds and The Dirty Three (and joint-project Grinderman), the scores are haunting and subtle, filled with Ellis' screeching violins and Caves' baritone moans, but never dictating emotions as we've come to expect from Blockbuster scores.
"The result is that these films become psychological character studies, with the music never commenting on the action in a traditional way, but rather becoming another player in the story," says Nicholas Buc, who arranged, and will conduct, a live performance of Cave and Ellis' scores at the Sydney Opera House.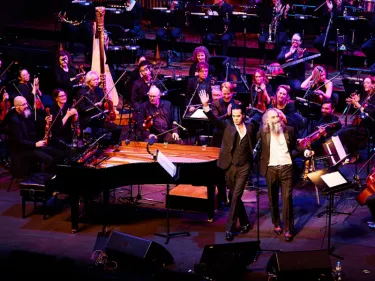 Buc, a globetrotting conductor for live-in-concert film scores, considers Ellis and Cave disruptors in the industry – both in their unique sound and roundabout process.
"There's no orchestra, there's not even any sheet music for musicians to play, it's much more an improvisatory exploration of sound, discovering the sonic fabric of the film through recording and jamming for days in the studio."
That two Australians have become synonymous with American cowboy stories and barren Southern backdrops is ironic, but unsuprising from Cave, the 'The Prince of Darkness', and Ellis, the son of a country-western singer.
For Film Music, Cave, Ellis and Buc performed on stage with the Sydney Symphony Orchestra and Sydney Philharmonic Choirs, recreating the scores of The Proposition, The Road, The Assassination of Jesse James by the Coward Robert Ford, Hell or High Water, Wind River and West of Memphis – six cross-genre films bound by their visions of rugged landscapes and violent men.
"Together they've managed to create an entirely new kind of sound world that just seems to work so perfectly with the dry, dusty landscapes in contemporary Westerns," Buc says.
They're not the first rock stars to dabble in film scores. Trent Reznor, Thom Yorke and Jonny Greenwood have most successfully taken to the silver screen, collaborating with the likes of David Fincher and Paul Thomas Anderson. So have powerhouses Daft Punk and Arcade Fire, whose unmistakeable sounds underpinned Tron: Legacy and the Oscar-nominated Her. 
Together they've managed to create an entirely new kind of sound world that just seems to work so perfectly with the dry, dusty landscapes in contemporary Westerns.
Buc attributes this trend to filmmakers "wanting to find a different and unique sound for their films so…they are looking to their favourite artists and bands" and admits that the scores often end up being "the polar opposite of what we think films should sound like".
Replicating Ellis and Cave's scores on stage was difficult for Buc. None of the scores were written down, so he had to do everything by ear, listening and transcribing, while also "adding colours and textures through careful orchestration".
The other challenge was doing justice to the minimalism of the scores while sufficiently "beefing them up" for an orchestra and concert hall. That meant using a choir to replicate some of the "angst-ridden moans and vocalisations" that Cave and Ellis performed themselves, but respecting the quiet instrumentals throughout.
Buc delved deep into their world, regularly consulting with Ellis and their engineer Jake Jackson, and familiarising himself with the synth – a far cry from the orthodox John Williams scores Buc usually works on. He describes the end product as flowing together "like one giant piece of music".
"I'm convinced that no one does existential dread like Nick and Warren. Their scores get under your skin and into your psyche like nothing else."
For more on Nick Cave and Warren Ellis' scores, read Nicholas Buc's breakdown below, and check out his podcast The Art of the Score.
Birdsongs featuring Birds of Toyko
One of Australia's great iconic bands is teaming up with the Sydney Symphony Orchestra for "Birdsongs" an electrifying concert experience.
Spinifex Gum & the Sydney Symphony Orchestra
Spinifex Gum combines the beauty of a young Indigenous female choir from Far North Queensland and the Torres Strait with contemporary songwriting that speaks to issues of our time.
Maina Doe
Returning to the Sydney Opera House after her shimmering performances at Liminal and supporting Tkay Maidza, emerging R&B Maina Doe lights up the Utzon Room with her debut headline performance at Vivid LIVE.