Lin-Manuel Miranda is tipping the scales of Broadway and Hollywood
From the start, he's championed diverse voices and stories. Here are the defining moments from the genius behind Hamilton and In the Heights.
Lin-Manuel Miranda is simply non-stop. Since In the Heights debuted in 2005, he has been on a strictly upward trajectory, quickly making a name for himself as the guy who changed Broadway. Miranda has upended the traditions of musical theatre, and not just the stories that are told, but who tells them and how.
Fast forward to 2020 and Lin-Manuel Miranda's musicals are talked about in the same breath as Game of Thrones, water cooler chat for hipsters and suits alike. He also has a firm foothold in Hollywood, contributing to everything from Star Wars to Mary Poppins Returns. And it all started in a Wesleyan dorm, with a sophomore who fondly remembered hot summer days in Washington Heights.
Here are the defining moments of Miranda's career, from humble beginnings to Hollywood superstar.
Humble beginnings:


The Sopranos and Sesame Street
Like Usnavi and Hamilton, Miranda has always aspired for something bigger. Following a stint as a substitute teacher at his old high school, and a job composing commercial music for political candidates, Miranda slogged it out as an extra on The Sopranos (as a bellboy, pictured below), and later made brief appearances in House, Modern Family and Sesame Street.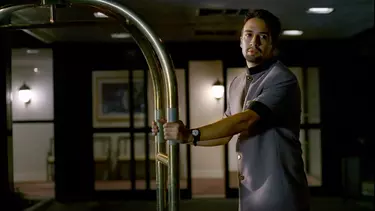 Telling the story he wants to tell: In the Heights
And then came the big break. In the Heights first saw the light of day as part of Wesleyan University's student theatre company Second Stage, then was reinvigorated off-Broadway at the 37 Arts Theater, before finally cracking the bigtime in 2008.
Years later, to a crowd of drooling graduates, Miranda spoke about the hurdles of putting on In the Heights, and how, despite everything, he and director Thomas Kail told "the story they wanted to tell": of a Latino community where the stakes are high, and not because of a superficial love triangle or unplanned pregnancy, but because of the everyday adversities of being a minority in America.
And it paid dividends: In the Heights has played Broadway and toured the world, including a 2018 performance in the Opera House Concert Hall, and is slated for a feature film adaptation later this year.
Hamilton: An American Musical
Is there anything left to say about Hamilton? The Broadway sensation smashed box office records, blew critics away, took home Tonys, won an unprecedented Pulitzer and is now a streaming sensation. It had musical fans onside with subtle references to Sondheim and Rodgers and Hammerstein, while winning over new audiences with nods to Mobb Deep and Biggie. From the moment Lin-Manuel rapped the opening number to Obama in the White House, Hamiltonhas been destined for greatness.
Hello Hollywood:
The new face of Disney
First he changed Broadway, then he set his sights on Hollywood. After writing music for Moana, for which he received an Oscar nomination, Miranda became cozy with Disney, even composing the 'new cantina theme' for Star Wars. He has since starred in Marry Poppins Returns and has recently become attached to a live-action remake of The Little Mermaid.
In slightly less wholesome territory, keep an eye out for the film adaptation and spin-off TV series of The Kingkiller Chronicles, a cult fantasy book series in the vein of Game of Thrones, which Miranda is producing and composing the music for.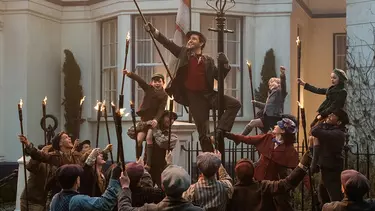 Karaoke king
There's a YouTube wormhole out there exclusively of impromptu Lin-Manuel musical performances. The guy just loves to sing. None are more charming than his wedding flashmob performance of 'To Life' from Fiddler on the Roof.
Puerto Rico activism
Miranda spends whatever free time he somehow has looking out for his disaster-stricken motherland, Puerto Rico. Following the one-two punch of a debt crisis (which had the poverty rate as high as 45%) and Hurricane Maria (which caused the largest power outage in American history), Miranda became the face of protests for disaster relief. He also recorded a song with a chorus of other well known Puerto Ricans to raise money, and in 2019 reprised his starring role in a new production of Hamilton on the island, for which locals paid $10 while tickets for foreigners were "super-expensive".