12 May - 8 September 2023
Gather from sunset for a free outdoor event that will transform the Opera House's Monumental Steps into a festival that celebrates First Nations music, art and food.
On the second Friday night of each month from 12 May to 8 September*, First Nations performers transform the dramatic steps leading up to the iconic building into their stage at sunset, with the Badu Gili projections lighting up the sails before and after each performance. 
The series will begin on 12 May with the opening night performance from blissed-out electro duo, Bow and Arrow. 
*In June, Badu Gili LIVE will run on the last Friday of the month. Check dates and times for exact details. 
LIVE PERFORMANCE TIMES AND LINE-UP
| | | |
| --- | --- | --- |
| Date | Performance Time | Performing Artist |
| Friday 12 May | 5.38pm | Bow and Arrow |
| Friday 30 June | 5.38pm | Tessa Thames |
| Friday 14 July | 5.38pm | Microwave Jenny |
| Friday 11 August | 6.08pm | Blanche |
| Friday 8 September | 6.23pm | Dyagula |
BADU GILI SAILS LIGHTING
| | | |
| --- | --- | --- |
| Date | Sails Lighting 1 | Sails Lighting 2 |
| Friday 12 May | 5.30pm | 6.51pm |
| Friday 30 June | 5.30pm | 6.51pm |
| Friday 14 July | 5.30pm | 6.51pm |
| Friday 11 August | 6pm | 7.21pm |
| Friday 8 September | 6.15pm | 7.36pm |
POP UP BAR
12 May, 30 June & 14 July
Open from 5.15pm - 7.15pm
11 August
Open from 5.45pm - 7.45pm
8 September
Open from 6pm - 8pm
Badu Gili LIVE is a free event for all ages to enjoy
Run time
Live performances will run for approximately 70 minutes. 
Badu Gili Sails lighting will run for approximately 7 minutes.
Event duration is a guide only and may be subject to change.
Age
Suitable for all ages.
Young people under the age of 15 must be accompanied at all times.
Viewing
Best viewed from the top of the Monumental Steps.
In case of wet weather
A decision will be made at 3pm on the day whether or not the event will go ahead. If the event is cancelled due to inclement weather, a message will be added to the website to inform patrons of the cancellation.
Also on this page
Viewing map
Celebration of music, art and food
Join us under the stars for live music performances from emerging First Nations artists Bow and Arrow, Tessa Thames, Microwave Jenny, Blanche and Dyagula, on the 2nd Friday night of each month from 12 May to 8 September*.

See the eastern Bennelong sails of the Opera House illuminated with our 2017, 2018 and 2021 animations depicting ancient and contemporary Aboriginal stories. Named Badu Gili, which means "water light" in Gadigal language, the installation brings First Nations stories and culture to life.
A pop-up bar will be available serving First Nations inspire food and drink to enjoy whilst watching the performance and sails projections. 
Badu Gili has been enabled by the Opera House, its Idealist donors and the Australia Council for the Arts since 2017.
This project is proudly supported by the NSW Government through the Culture Up Late initiative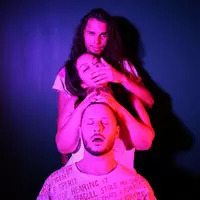 Meet eccentric Blue Mountains-based electro soul duo Bow and Arrow, aka husband and wife team Mindy Jane (Bow) and Mitchell Kwanten (Arrow).
These talented partners in crime have been seen tearing up the stage at Homeground, and headlining this year's Badu Gili Live series. Gathering a following through appearances on NITV, at Blues Fest and a nation-wide tour with The Sapphires, as well as recording a banging remix of UNKLE's 'Money and Run' featuring Nick Cave.
Don't miss their brand of energetic, entertaining and fun performance.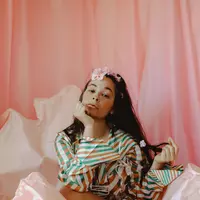 Tessa Thames is a female electronic pop indie singer songwriter, a mother, daughter, sister, auntie and first nations person from the Central Coast of NSW, now based in Sydney. Best known as one half of acoustic duo Microwave Jenny, Tessa now releases as a solo artist Tessa Thames - from a childhood nickname and her time spent living in London.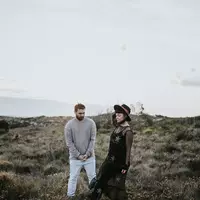 Microwave Jenny is an Australian pop/folk/jazz duet that consists of Tessa Nuku on vocals and Brendon Boney on guitar and vocals. The phrase 'Microwave Jenny' comes from the 1997 film, The Castle.
The duo feature heavily on the Australian music festival circuit with notable live performances including Bluesfest, Woodford Folk Festival, Peats Ridge Festival and Nannup Music Festival.
Blanche is the creative alias of John Grant, a self- produced First Nations musician (Wiradjuri) hailing from Sydney, Australia. Blanche produces all his music in his bedroom studio and creates music under many genres such as alternative rock, acoustic, psychedelia and RnB.
Blanche uses music to explore and understand the world around him as well as delve into his own psyche.
Dyagula, also known as Mindy Kwanten is a proud Wiradjuri Ngunawal song woman born in Yass, and an established multi-genre vocalist, multi-instrumentalist, songwriter, composer and vocal producer and vocal arranger. Dyagula means 'lyrebird' in Wiradjuri.
Badu Gili – meaning 'water light' in the language of the site's traditional owners, the Gadigal people – explores ancient stories in a spectacularly contemporary, nightly seven-minute animation. Launched in 2017, there have been three iterations of Badu Gili, celebrating the rich history and vibrancy of Australia's First Nations culture.
The first Badu Gili in 2017 weaved together the work of five eminent First Nations artists from across Australia and the Torres Strait Islands, Jenuarrie (Judith Warrie), Frances Belle Parker, Alick Tipoti and the late Lin Onus and Minnie Pwerle.
The second Badu Gili from 2018 traces the songlines across shifting terrain, from the far corners of the Australian desert to the waters of the Torres Strait. It blends the diverse voices of artists Djambawa Marawili AM, Mervyn Rubuntja, Mabel Juli, Patricia Ansell Dodds, Penny Evans and Aiona Tala Gaidan.
Badu Gili: Wonder Women is the most recent installation and produced in collaboration with the Art Gallery of NSW. Badu Gili: Wonder Women celebrates the work and stories of six female First Nations artists, Marlene Gilson, Judith Inkamala, Sally M. Nangala Mulda, Marlene Rubuntja, Elaine Russell and Kaylene Whiskey.
Each projection has been accompanied by an original soundscape composed by Damian Robinson.
Other information
The Sydney Opera House Car Park, operated by Wilson Parking, is open and available to use. Wilson Parking offer discounted parking if you book ahead. Please see their website for details.
Please check the Transport NSW website for the latest advice and information on travel and COVID-19 safety measures. You can catch public transport (bus, train, ferry) to Circular Quay and enjoy a six min walk to the Opera House. 
The health and wellbeing of everyone attending the Opera House is our top priority. We're committed to making your experience safe, comfortable and enjoyable, with a number of measures in place including regular cleaning of high-touch areas, air conditioning systems that maximise ventilation, and hand sanitiser stations positioned in all paths of travel. We encourage you to wear a mask in indoor settings or when physical distancing can't be maintained, and please stay home if you feel unwell. If you need to discuss your ticketing or booking options, contact our Box Office team on 02 9250 7777.
Nothing is more important to us than the health and safety of everyone on site, and we are closely following NSW Health guidelines and advice. The Sydney Opera House is registered as a COVID Safe business with the NSW Government. For detailed information about our COVID-19 safety measures and what's required of you when visiting, please see our plan your visit page.
As you move around the Opera House, practise physical distancing (1.5 metres whenever possible) and follow the guidance provided by our staff and signage.
For detailed information about our COVID-19 safety measures and what's required of you, please see our plan your visit page.
The Sydney Opera House no longer requires patrons to show that they are fully vaccinated against COVID-19.
Contact information is required when making a booking with us and upon arrival at the Opera House, as set out in our General Terms and Conditions for Tickets and Attendance at Events and our Customer Privacy Statement.
As the ticket purchaser, you are responsible for recording the contact details of your guests. Contact information will only be used for the purposes of contact tracing, if required, and will be deleted at least 28 days after your event.
Frequently asked questions
No. When you arrive at the Opera House, make your way up the Monumental Steps to the Podium where you will enjoy the best view of the sunset projection. 
Yes – we encourage everyone to capture this special experience. If you post on social media, please tag #BaduGili or #BaduGiliWonderWomen to share your photos or video with us.
It's a great idea to arrive early, grab a drink and soak up the view.
Please note sunset varies each day so be sure to check sunset times on the day. 
Badu Gili is an outdoor event, during winter we recommend dressing warmly.
There will be a pop-up bar at Badu Gili LIVE or you can enjoy one of the many restaurants and bars here at the Opera House. Our restaurants offer everything from casual snacks to award-winning fine dining. Find what you're after, see our restaurants.
Please check with our staff when you arrive. 
The Opera House is currently undertaking critical maintenance works to address water leakage issues affecting the Lower Concourse. These necessary works are required to mitigate long-term water damage to the Opera House building and its structure. These works will not impact your visit, it's business as usual!
A decision will be made at 3pm on the day whether or not the event will go ahead. If the event is cancelled due to inclement weather, a message will be added to the website to inform patrons of the cancellation. In the event of rain during a performance, we recommend you bring a small umbrella or raincoat.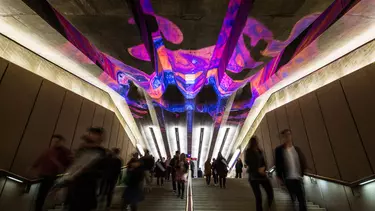 Visit
Information for visitors to the Sydney Opera House.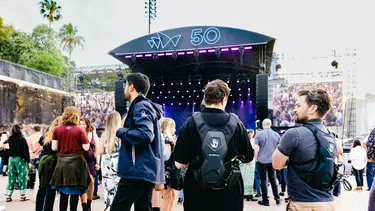 Accessibility
Our goal at the Sydney Opera House is to provide barrier-free access, making the site, building and the experiences they offer accessible to all people. 
What's on
Find events, performances and shows on at the Sydney Opera House.