London International Animation Festival Celebrating a world of animation for kids
Ages 2 - 14 | This January school holiday, the London International Animation Festival is coming to Sydney for the very first time, with a showcase of the best children's animations full of visually dazzling joy, from all around the world.
| | | |
| --- | --- | --- |
| Date | Time | Age |
| Friday 19 January | 10am* | 2 - 6 |
| Friday 19 January | 12pm* | 2 - 6 |
| Friday 19 January | 2pm | 6 - 10 |
| Friday 19 January | 6pm | 10 - 14 |
| Saturday 20 January | 10am* | 2 - 6 |
| Saturday 20 January | 12pm* | 2 - 6 |
| Saturday 20 January | 2pm | 6 - 10 |
| Saturday 20 January | 6pm | 10 - 14 |
| Sunday 21 January | 10am* | 2 - 6 |
| Sunday 21 January | 12pm* | 2 - 6 |
| Sunday 21 January | 2pm | 6 - 10 |
| Sunday 21 January | 6pm | 10 - 14 |
*Same animations shown at the 10am and 12pm sessions.
| Ticket | Price |
| --- | --- |
| Standard | $15 |
$8.95 booking fee applies per transaction
Prices correct at the time of publication and subject to change without notice. Exact prices will be displayed with seat selection.
Children aged 15 years and under must be accompanied at all times.
The authorised agency for this event is Sydney Opera House. For more information about Authorised Agencies, see the frequently asked questions below.
Age & Run Time
Over the three days, four sessions are available per day. Your ticket is valid for one session. See which session best suits you:
10am: Recommended for ages 2-6
12pm: Recommended for ages 2-6
2pm: Recommended for ages 6 - 10
6pm: Recommended for ages 10 - 14
Each session will run for 60 minutes, features a variety of animations per session.
Event duration is a guide only and may be subject to change.
Like childhood, animation is full of wonder!
In need of an escape from the Summer sun? Join us at the Sydney Opera House for the Australian premiere of the London International Animation Festival for kids.
Our Playhouse has been transformed into a cinema for you and the family to enjoy the best of independent animation from across the globe. From stop-motion, claymation, 2D and 3D CGI and everything in between, get comfy in your seats and ready to travel to faraway lands and mysterious planets.
Guided by your MC, vote for your favourite animations and get involved in the fun free foyer animation play activations before or after your movie session, as we roll out the red carpet for this big screen celebration!
This carefully curated programme for our littlest film critics contains the most wonderful animated short films from all around the world. There'll be talking animals, heartwarming friendships, fun adventures and wondrous tales to spark everyone's imagination.
Sydney Opera House presents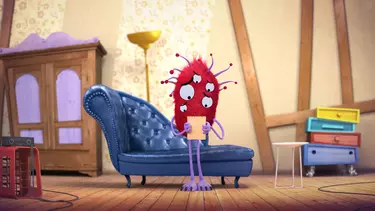 My Name is Fear
The fear that lives in your head wants to give an interview. Maybe you and Fear can become friends, or maybe there is a reason to be scared of Fear. 
Germany 2021 Dir: Eliza Płocieniak-Alvarez 5 min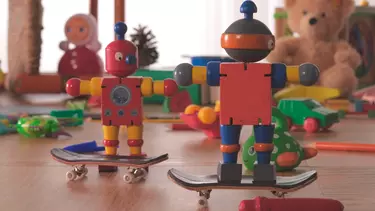 Swing
In a world of toys a wooden robot feels lonely. When another robot appears their relationship starts to blossom. 
Spain 2022 Dir: Ignasi Tarruella 5 min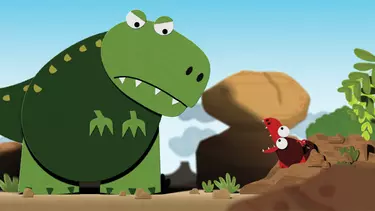 Bellysaurus
A tiny dinosaur dreams that she is a big scary dinosaur. When danger strikes, she learns it's what's on the inside that counts—literally. 
Australia 2021 Dir: Philip Watts 8 min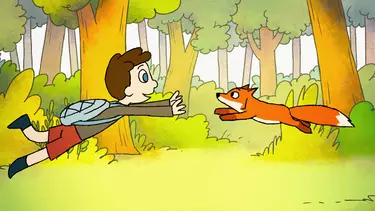 Fox for Edgar
Edgar is not getting a lot of attention and affection from his parents, as they prefer spending time with their smartphones and laptops than with their son.  
Germany 2021 Dir: Pauline Kortmann 8 min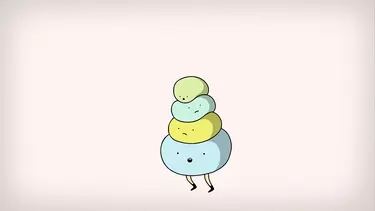 Meta
Interconnection, form, function, flow: all these big ideas about change and growth sprout in playful ways when creatures shape shift and dance to the rhythm of discovery. 
Germany 2022 Dir: Antje Heyn 4 min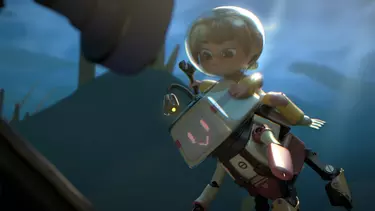 The Adventures of Goar
An undersea explorer called Goar dives into the bottom of the sea to save her robot friend. 
China 2021 Dir: Sergio Lu 6 min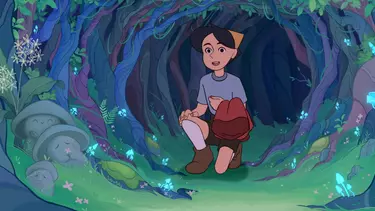 Heartwood
Midge is hiking in the woods with her boring father. When she decides to leave the monotony of the hiking trail to set off on her own adventure, she makes a magical discovery.  
UK 2021 Dir: Clara Schildhauer, Reyes Fernández 4 min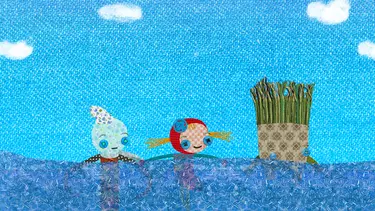 How Shammies Travelled
Hankie proposes to travel around the house with eyes closed. Space under the table suddenly turns into a dragon's cave and the stairs into snowy cliffs. 
Latvia 2021 Dir: Edmunds Jansons 6 min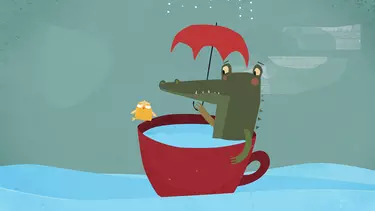 Lost Brain
Every time Louise the crocodile sneezes, she loses part of her brain, until she cannot perform simple tasks and becomes trapped inside her own apartment. 
Switzerland 2022 Dir: Isabelle Favez 6 min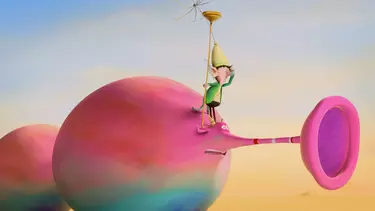 The Smortlybacks Come Back!
In a barren world TamLin of the Little People travels with his herd of splendid smortlybacks in search of greener pastures. 
Switzerland 2022 Dir: Ted Sieger 8 min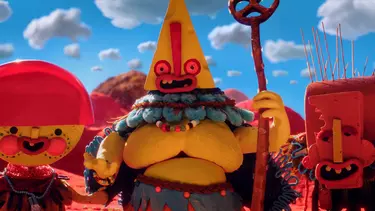 Death of the Gods
The story of a hug. A boy's journey across a surreal world to find his fallen giant. 
UK 2022 Dir: Leto S Meade 11 min 
Bench
A heartwarming story about friendship, love and sandwiches. 
UK 2020 Dir: Rich Webber 2 mins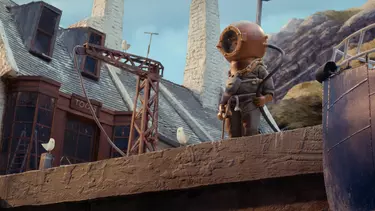 Laika and Nemo
Nemo looks different. Nobody else wears a diving suit and such a huge helmet. But then he meets Laika, an astronaut.  
Germany 2022 Dir: Jan Gadermann, Sebastian Gadow 15 min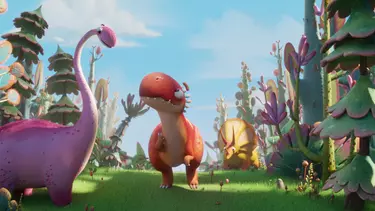 Mezosoique Alternatif
Rex and his dinosaur friends are disturbed in their peaceful life by a tribe of annoying humans and a meteor shower crashing to Earth. 
France 2021 Dir: Various 5 min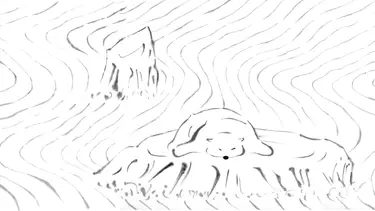 Polar Bear Bears Boredom
From bored bears to other otters, delightful wordplay—in both English and Japanese—guides this story through the deep blue sea. 
Japan 2021 Dir: Koji Yamamura 7 min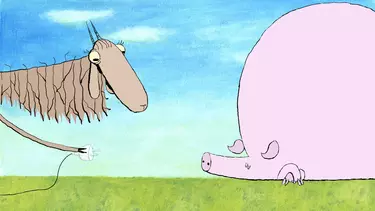 Pig
A group of animals hook up a power grid to the socket-shaped snout of one big, sleeping pig.  
Netherlands 2022 Dir: Jorn Leeuwerink 8 min 
Mishou
A helicopter full of noisy tourists lands in a place of snow and ice. A quick round of selfies and then they're off again, leaving behind a tiny dog who is adopted by four Arctic hares. 
Germany/Bulgaria 2020 Dir: Milen Vitanov 8 min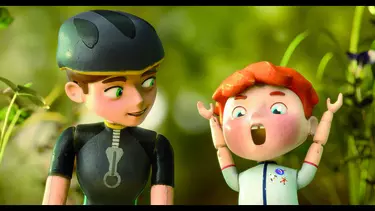 Latitude du printemps
An abandoned dog by the side of the road, a young astronaut wannabe and a professional cyclist and the connection between all three. 
France 2020  Dir: Various  7min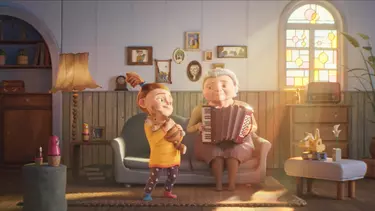 The Most Boring Granny in the World 
Greta has the most boring grandma in the world. When she falls asleep on the sofa, Greta gets the idea to play 'funeral' with her, initiating a sensitive conversation about death and memory. 
Germany 2022 Dir: Damaris Zielke 7 min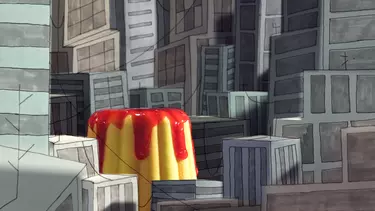 A Film About a Pudding
Ronin's dropped groceries start to mix and bubble, transforming into a small pudding. Over the next few days, the pudding grows bigger and bigger. 
UK 2021 Dir: Roel Van Beek 9 min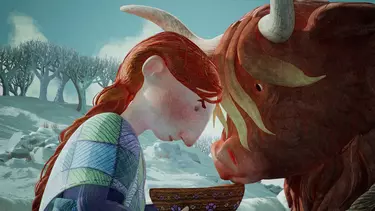 Burry Man
When a Pictish farm is besieged by an endless winter, an adolescent girl must defy her father and his traditions to venture out beyond their family glen in search of a mysterious figure, the Burry Man. 
UK 2022 Dir: Simon P Biggs 6 min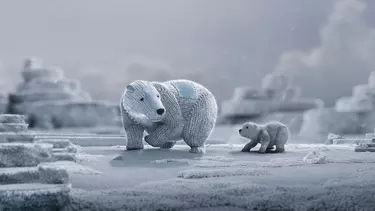 Migrants
Two polar bears are driven into exile due to global warming. They encounter brown bears along their journey, with whom they try to cohabitate. 
France 2021 Dir: Various 8 min 
A Stone in the Shoe
A student arrives in his new class. He is not a student like the others – he is a frog in a class of rabbits. 
France 2020 Dir: Eric Montchaud 12 mins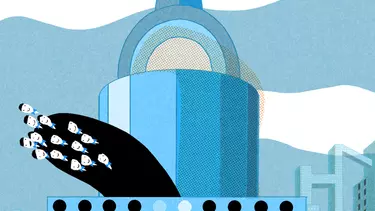 Choir Tour
A world-famous boys' choir goes on tour. In the hands of their conductor they are obedient but when he gets trapped in an elevator they become playful children. 
Latvia 2012 Dir: Edmunds Jansons 5 mins 
Ages 2 - 8 | Join Clara and her Nutcracker on a magical journey in this stunning adaptation featuring live classical music and ballet.
Ages 3+ | Venture into this world of paper, towering cardboard trees and endless possibilities. Let your imagination run wild as you help add to this ever-growing installation, using paper and sticky tape as your only materials!
All ages | "Sparkling, dazzling children's opera." A delightful show for the whole family! Sid dreams of singing – but will anyone listen?